Vietnam Tourism Development Trend in 2014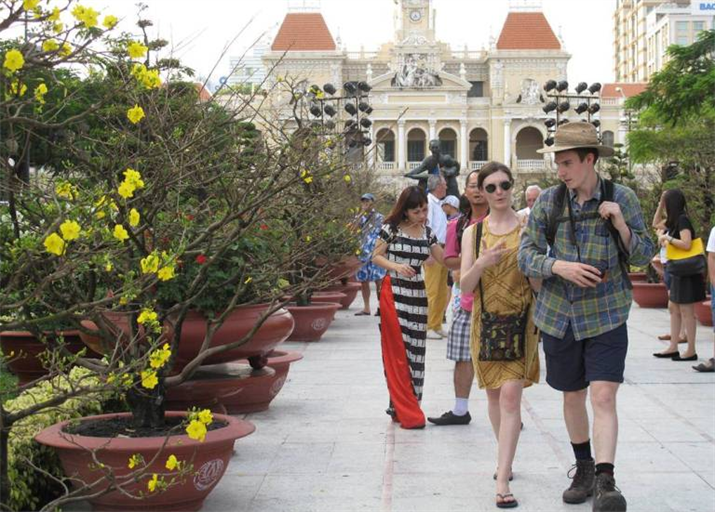 Vietnam's tourism industry is forecasted to continue its growth in 2014 despite negative impacts from the global economic recession.
Growth rate continues to reach over 10%
The year 2013 finally ended leaving behind difficulties and struggle for the whole economy in general and tourism in particular. However, with outstanding efforts, Vietnam's tourism industry overcomes crisis and becomes the highlight with impressive achievements: welcoming 7.57 million international visitors, a year-on-year increase of 10.6%, while reaching the targets two years earlier than expected. Domestic tourist number also reaches a record of 35 million, total industry revenue is VND 200 trillion.
Would the tourism sector sustain this growth in 2014 when world economy is forecasted to remain in crisis and face even more difficulties?
From viewpoint of experts and managers, Vietnam tourism is not beyond the influence of global economic crisis; however, it will still maintain growth momentum of 2013. Mr. Vu The Binh - Vice Chairman of the Vietnam Tourism Association, said: "In 2014, Vietnam's tourism will definitely keep its momentum as the last two years. I believe the growth rate would be over 10% despite many difficulties and challenges. By the last two years, businesses have learnt the lessons and gain experience to recover and overcome difficulties. It can be said Vietnam's tourism has learned to live with the crisis so it is no longer a major threat for the sector."
From perspective of businesses, Deputy Manager of Hanoi Redtours Nguyen Cong Hoan reckoned that due to austerity, tourism products with reasonable price and promotions will still be favored. In particular, affordable short-day tours will continue to be the major choice in 2014. Besides, a number of clients who are hardly affected by economic difficulties, will choose the more luxury tours. Whereas, those mid-priced packages will be the most difficult to sell, said Hoan.
Japan and South Korea: emerging markets
In 2013, the markets bringing most visitors to Vietnam are Russia (up 71.1% compared to the same period last year) and China (up 33. 5%), followed by Thailand, Australia, South Korea, Japan...
However, as acknowledged by tourism professionals, Vietnam tourism in 2014 will see the growth of tourists from Japan and South Korea because of the increasingly friendly relations between Vietnam and the two countries. In particular, the number of Japanese tourists to Vietnam is forecast to grow very well as two sides have signed aggreements and policies prioritizing bilateral cooperation in tourism. In addition, the number of tourists from Russia, China, the U.S. and EU, Western Europe will also continue to increase.
"The number of visitor actually reflect the relationship between the governments and markets. So, thanks to good relations between Vietnam and other countries, inbound visitor number will still grow about 10% despite economic difficulties. Outbound tourism is also seeing rapid growth and Vietnam Tourism Association continues to focus on guiding outbound development in accordance with selected markets, ensuring the value of Vietnamese tourists is affirmed on international markets" said Vu The Binh..
With domestic market, according to experts, high growth rates will be achieved. Accordingly, resort and marine tourism will continue to be top favorite. Destinations on the rise for marine tourism will also attract a great number of tourists next year as: Chu Lai, Quang Nam, Binh Dinh, Phu Yen, Co To... Besides, such tourism products associated with natural landscapes as Ha Giang, Lai Chau, Son La, Moc Chau ... will also be chosen by many tourists.
Tran Phu Cuong, Deputy Director of International Cooperation (Vietnam National Administration of Tourism) said that "We have seen that there are many opportunities for tourism growth in 2014 as Vietnam is increasingly regarded by international friends as an attractive destination, together with the Party and State's support, the initiative of local businesses. All the efforts will yield positive results".
Reportedly, in 2014, the tourism industry aims to attract 8 million international arrivals and 40 million domestic tourists, generate a total revenue of VND 220,000 billion.
Other news